Free hot meals prepared by the Food Service Management class here at Fresno City College are served at the Ram Pantry from October 21 through November 18, 2021.
Before the pandemic, the food service management classroom primarily provided these types of lunches for faculty and staff.
However, since most are now off-campus, food service management instructor Jonathan Davey said students need a crowd to serve.
This crowd is made up of FCC students like Ramon Banks, who heard about the opportunity after hearing one of the FCC chiefs talking about it.
After tasting the food prepared by the students, Banks said he would recommend students to attend and come and try it.
"I think it's good that they are doing this, offering more meals to see if the students like it. It gives the students a chance to show off their skills without being too high in the workplace," he said. -he declares.
That's an accurate interpretation for food service management student Alyssa Chaporo, who said she's happy cooking for people as she hopes to become a chef one day and open her own bakery.
"I love it when people eat my food and I love seeing their reactions to different types of food," she said.
For Chaporo, the most challenging aspect was the math, such as metric conversions, precise measurements for tablespoons and more, of cooking in large batches.
The experience and value of learning has a lot to do with the drive of these student cooks, as Jasmine Perez Lozano said she was taking class FSM-38 for skills, experiences and a certificate.
Perez Lozano said she doesn't cook much elsewhere, so some things in the class are difficult, but it's about learning so she can go at her own pace.
Additionally, Perez Lozano said that by providing meals, students in the class help feed people on campus who may not have a lot of money.
According to Davey, the students really enjoy this mission because knowing that the food will be eaten by people other than their instructors makes the experience more real.
For the most part, the mission is just to give students a chance to cook larger amounts of food, but he said feeding the community is a big side benefit.
Davey also said he hopes to continue the FSM-38 and Ram Pantry partnership even after faculty and staff return to campus.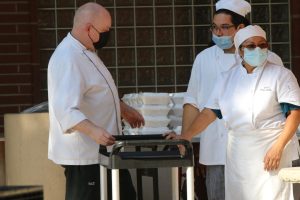 Students must register at the Pantry using their name and student ID to receive the free meal of regional American recipes like BBQ Pulled Pork, Clam Chowder, Philly Cheesesteak and more. 'others.